Image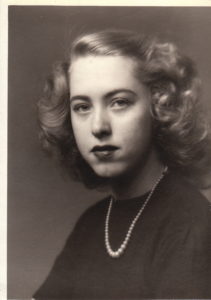 February 17th, 1927 – October 11th, 2016
Gloria Jean Asher passed away peacefully on the early morning of Tuesday October 11th in the care of her family in Hayward, California.
She was 89 years old.
Gloria was born in Ogden, Utah to Chris and Hally Rasmussen on Thursday, February 17th, 1927.  Her father Chris was a brick mason and contractor in Provo, Utah and served as the president of the Brick Layer's Union in that town.  In her teenage years Gloria worked in Zion National Park and also sang for weddings and other occasions.
Gloria met her husband Lawrence G. Asher and they were married on August 21st, 1948.  They had three children during their marriage: Chris, Marcia, and Lawrence.  Gloria and Lawrence divorced after 14 years of marriage and Gloria went to college at Brigham Young University to obtain her Bachelors degree in Psychology and Business.  She went on to work for the many branches of the Federal Government for 20 years.
Gloria enjoyed dancing, painting, taking care of her many cats over the years (including the neighborhood strays), and hanging out with her family and grandchildren.
Gloria is survived by her daughter Marcy Santana (Hayward, CA) and son Larry Asher (Gold River, CA).  Her son Chris preceded her in death in 2012.  Gloria has three grandchildren: Jennifer, Brian, and Aaron and two great grandchildren Liam and Milo.
Gloria's family plans to celebrate her life and scattered her ashes in Provo Cemetery on her parents grave.  If you wish, her family requests donations in her memory towards Alzheimer's research.`
Comments Off on Rest in Peace Gloria Jean Asher
Posted in Family